Our Board
[/vc_column_text][/vc_column][/vc_row]

RENU KHANNA – President 
Renu Khanna is a feminist women's health and right activist. She has a master in Business Administration from Faculty of Management Studies, Delhi University. She is a founder trustee of SAHAJ – Society for Health Alternatives based in Varodara. Renu and some friends started the Women's  Health Advocacy cell, in the WSRC, MS university in Vadodara. Renu and some friends started the Women, Plants and Healing published by Kali for women. She has co-edited Towards Comprehensive women's Health policies and programmes. Renu was an Erasmus Mundus scholar and taught in KIT Amsterdam and QMU Edinburgh in 2008. She has been part of a pioneering Group in India to design and conduct a 2 week Gender and Health Course as well as a Gendered Research in Health Course in two locations in the country. She is a member of several pro – peoples networks, like, the Jan Swasthya Abhiyan, Medico Friends Circle, People's Union for Civil Liberties, Vadodara, or Common Health – Coalition for Maternal – Neonatal Health and Safe Abortion.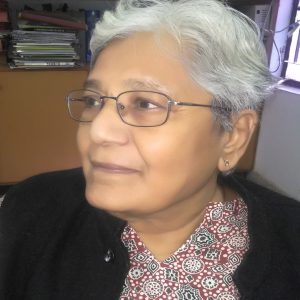 DR. LEELA VISARIA – Vise President
Dr. Leela Visaria holds Ph.D from Princeton University and is a former Professor and Director of GIDR. Currently she is an Honorary Professor at the Institute. Her research interests include historical demography as well as field-based studies on problems of health, family planning, education and demographic transition. Her articles have appeared in several scholarly journals. She has been a co-author of a book Contraceptive Use and Fertility in India: A Case Study of Gujarat (Sage Publications, New Delhi, 1995) and of India in the 21st Centuryalong with Tim Dyson and Robert Cassen, both of London School of Economics (Oxford University Press, 2004). She has co-edited (with John Simons and Peter Berman) Maternal Education and Child Survival: Pathways and Evidence (Vikas Publishing House, Delhi, 1997); Abortion in India: Ground Reality (jointly with Vimala Ramachandran), New Delhi, Routledge, 2007; and Midwifery & Maternal Health in India: Situation Analysis & Lessons from the Field, CMHS Monograph No. 1, Indian Institute of Management, Ahmedabad, 2010.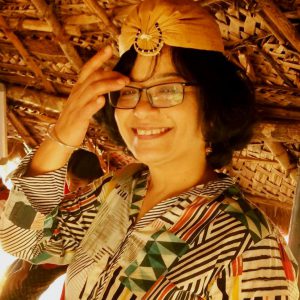 MANJULA PRADEEP – Member
Manjula Pradeep is an Indian human rights activist and a lawyer. She is the former Executive Director of Navsarjan Trust, one of the largest Dalit rights organizations in India, addressing the issues of caste discrimination and gender based discrimination. Manjula has completed her Master's degree of Social Work at the Maharaja Sayajirao University of Baroda in 1990. Later she also completed her Bachelors of Law. It was at the university, where she started challenging the male-dominated arena of Dalit politics, and became involved in Dalit and feminist activism. After finishing her Masters degree in 1992, Manjula Pradeep joined the Navsarjan Trust at the age of 21 as their first female employee. In 2004, she was elected at the Executive Director at the organisation.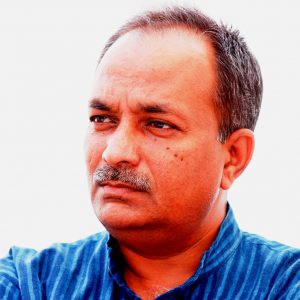 HARINESH PANDYA – Member
Harinesh Pandya did his law and then worked voluntarily for 'Trade Union movement' for 18 years. For past 17 years, successfully handling responsibility of "Executive Secretary" of JANPATH NETWORK.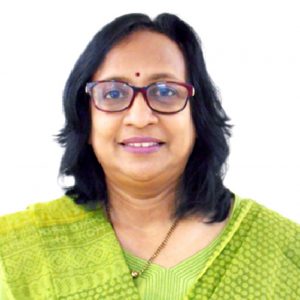 ARCHANA JOSHI – Member
Archana Joshi is the Director of Deepak Foundation and heads the Corporate Social Responsibility of Deepak Group of Companies ( Deepak Nitritie Limited and Deepak Fertilizers and Petrochemicals Corporation Limited). Her research papers are published in several journals and various conference proceedings at national and international level. She has past 18 years of experience in international consultancy research organization and has vast experience in monitoring and evaluation of government health and other development programs pertaining to social sector. She was a consultant in Johns Hopkins University, Baltimore, USA and Population Council, New Delhi, for projects related to Reproductive Health.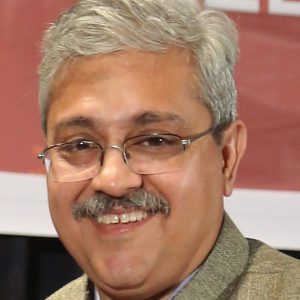 APOORVA OZA – Member
Apoorva Oza, educated in India, the UK and the USA in mechanical engineering, rural management and NGO management. He is currently the CEO for the Aga Khan Rural Support Program (India). Furthermore, he is actively involved with various other NGOs and Government working groups including the state level working group on participatory irrigation Management, State level working group on Joint Forest Management, PRAVAH ( Net work of NGOs on Drinking Water Policy Issues ), CHARKHA ( Development Communication Network of NGOs ), SWATI and Gujarat Initiative for Right to Information. Apoorva Oza research interests include natural resource management, village institutions and NGO management.

 ATUL PANDYA – Member
Atul Pandya, former programme director of Rural Programmes Group at city-based Centre for Environment Education (CEE), and present director of the trust at Sabarmati Ashram. Atul Pandya was raised in a Gandhian household. He studied at Lokbharti Gramvidyapith, an educational institute built on Gandhian values in Sanosara village near Bhavnagar, and was engaged as academic director of its rural institutes of higher education. He is Bacholor of Arts from Saurashtra University and Masters of Social Work from Gujarat Vidhyapith.
He has worked with VIKSAT from 1985-87. He was also part of several outreach and training programmes besides rural programmes at CEE from 1988-2014. After that he joined his alma mater Lokbharti.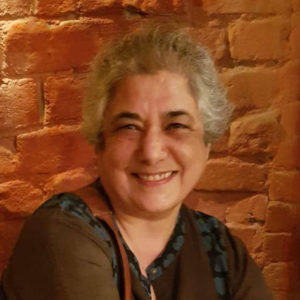 POONAM KATHURIA – Managing Trustee
Poonam Kathuria is founder and director of Society for Women's Action and Training Initiatives – SWATI – an organisation working at the state and national levels in India on issues related to violence against women and adolescents, their health, and women's access and right to land and governance.
Poonam has been active over 20 years in an influential role to end gender-based violence and to promote women's empowerment and leadership. Her skills range from project design and management to situation analysis, action research and capacity development. Under her leadership SWATI has extended its geographic and programme coverage and is known for its analytical and innovative approaches to complex issues.
Poonam was awarded the Dame Nita Barrow Distinguished Visitorship, 2014, at the Ontario Institute for Studies in Education, University of Toronto, and taught a special course at the University from June to September that year.
Her latest work is a study on shelter homes in Gujarat. She has co-edited, as well as written a chapter in, an edited collection titled Indian Feminisms – Individual and Collective Journeys
(https://zubaanbooks.com/shop/indian-feminisms-individual-and-collective-journeys/).